Integrate Konnect Insights with Webex
---
With Konnect Insights you can manage data from all social platforms such as Twitter, Facebook, Instagram, YouTube and others; as well as blogs, forums, news, consumer forums, review sites and send them to Webex. From Webex you can take action and reply to them. You choose which datapoint you want to send using various filters.
Setting up Konnect-Webex integration is easy. Follow this guide to get started. At the end of the guide you'll see how your data will appear when they come through to Webex.
Setting Up Webex Integration
To setup this integration, first login to your Konnect Insights account

Navigate to the "Settings" menu at the top of the page




Navigate to "Integrations" tab, press on "Connect Other Apps" button




Locate "Webex" and click "Connect with Webex" button




Head over to Webex and login to your account




Congratulations, you've linked Konnect Insights to Webex!
---
Auto Send Ticket To Webex
Click on profile settings and choose "Automation Rules"




Choose profiles of which you want to send the conversations to Webex and hit save. You can filter by Media type, sentiment and country etc.




You can select an agent or group you want to assign tickets (Optional) and hit "Add Rule"



Your conversations will now start showing up in Webex as tickets which contains some handy tags to help keep your tickets organized and quick links to reply
---
Manually Send Ticket To Webex
Click on three dots on the ticket which you want to send to Webex and click "Send To Crm"




Choose the Webex Account to which you want to send ticket, also choose the agent or group below and hit "Send" button.



---
Here's how your tickets will look when they start to come through: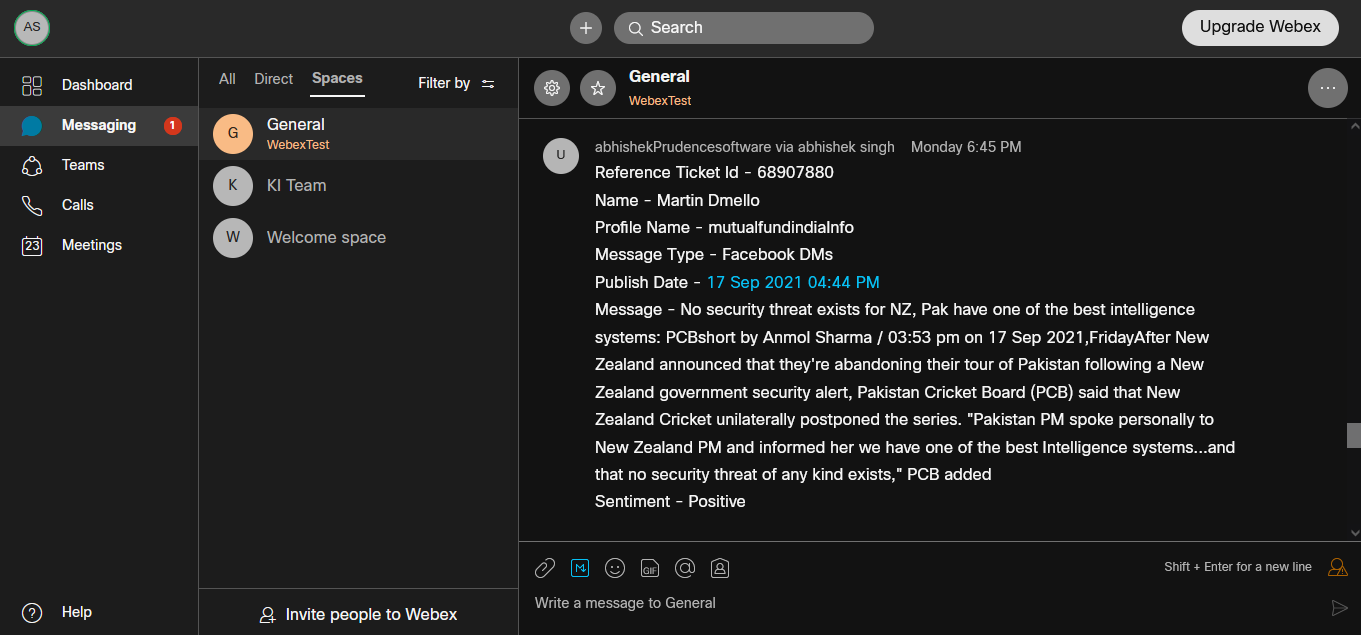 ---
If you need any further assistance, don't hesitate to contact us atsupport@konnectinsights.com with any questions.